According to a Twitter survey conducted by Ethereum co-founder Vitalik Buterin, over half of the crypto community believes that a 5-letter.eth domain name for 100 years should cost less than $100.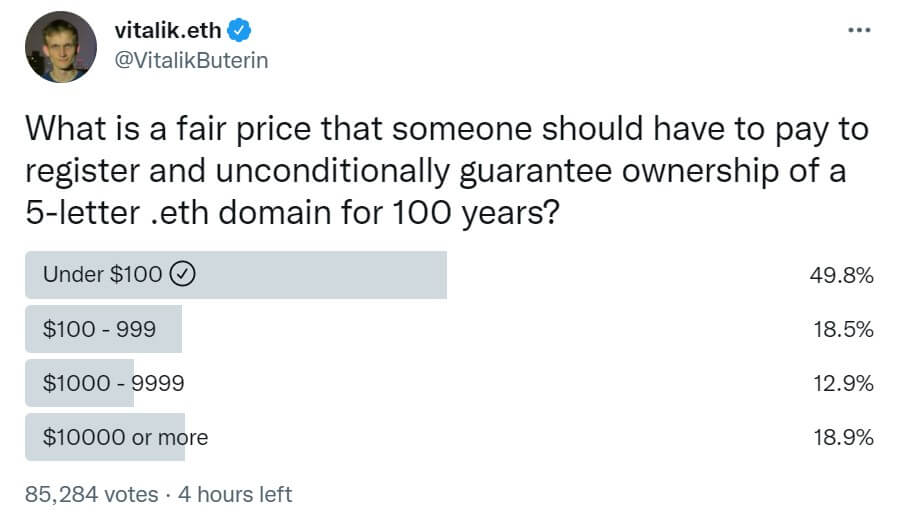 Others claimed that the price should be high because domain ownership would last for 100 years and the "sub $100" price would assure inclusivity for everyone.
What is a fair price that someone should have to pay to register and unconditionally guarantee ownership of a 5-letter .eth domain for 100 years?

— vitalik.eth (@VitalikButerin) September 4, 2022
Rodney Ramsey said, "since.eth provides minimal utility outside of speculation, the registration fee should be as low as possible." If people wish to speculate and exchange them at whatever price, then so be it."
Since .eth has very little utility outside of speculation, the registration should be as cheap as possible. If people want to speculate and trade them, so be it, at whatever price they want. But the base utility is almost zero right now.

— Rodney Ramsey (@RodneyRamsey) September 4, 2022
Buterin's replies to several community members demonstrated that he was attempting to avoid domain parking by "scalpers" and to provide small players the option to control these domain names.
Harberger taxes are dumb…

It's the gentrification of ENS (makes it unaffordable for smaller players to hold on to their property)@VitalikButerin this isn't the way https://t.co/S7N8oOt3lt

— 🟩 Yatmaxi (@YatMaxi) September 4, 2022
Meanwhile, other members of the community have urged that Buterin should allow the market to determine the value of these five-digit ENS domain names.
why can't markets decide this? https://t.co/LViz9SICxA

— 6529 (@punk6529) September 4, 2022
Over 85,000 people have participated in the poll as of press time.
Buterin argues for taxes of the ENS domain
Vitalik Buterin has proposed a 3% annual charge for the highest bidder on ENS domain names.
According to Buterin, ENS domain owners should pay 3% of the highest annual bid for their address to keep ownership. An investor with a top bid of $500,000 on their domain should pay an annual tax of $15,000.
According to him, this would discourage people from accumulating domains they are not use.
ENS domains are on the increase ENS domain names have experienced explosive growth and widespread usage in recent years.
August 2022 stats for ENS

- 301K new .eth registrations (total 2.17m names)
- $4.7m in protocol revenue (all goes to the @ENS_DAO)
- 2,744 ETH in revenue (3rd highest month)
- 34K new eth accounts w/ at least 1 ENS name (total 540k)
- >99% of OpenSea domain vol pic.twitter.com/utU8i4cBMT

— ens.eth (@ensdomains) September 1, 2022
According to available data, ENS domain names generated $4,7 million in protocol income in August while registering over 300,000 new.eth domains.
ENS domains added 34,000 new accounts with at least one ENS name and made its third-highest revenue of 2,744 ETH ($4.3 million) in August.
Members of the community attribute the expansion of ENS domain names to the upcoming Ethereum merging.
Several notable Twitter accounts now utilize.eth domains as their profile names, indicating that the use of.eth domains has become popular in the crypto world.