The biggest news in the cryptoverse for Sept. 7 includes Signature Bank seeing outflows in the digital asset banking space totaling $4.27 billion, Ripple's CBDC initiatives, and Coinbase's proposal that could generate up to $24 million annual passive income for MakerDAO.
Crypto Market 24h
Bitcoin lost 2.37% in the last 24 hours, dropping to $18,936, while Ethereum recorded a 4.62% fall to be traded at $1,556.
Biggest Gainers (24h)
Helium: +39.88%
EOS: +18.74%
yearn.finance: +10.07%
Biggest Losers (24h)
OKB: -1.97%
Klaytn: -1.88%
Ravencoin: -0.78%
CoinCrypto Top Stories
Signature Bank suffers $4.27B deposit outflows as crypto uncertainty takes hold
Signature Bank's mid-Q3 report showed that the crypto-friendly bank saw lower spot deposit balances
According to the bank, the decrease in deposit balances for quarter was due to outflows in the digital asset banking space totaling $4.27 billion.
Ripple hints at new CBDC announcements
Ripple's Central Bank Digital Currency (CBDC) advisor Anthony Welfare said that the company had inked several partnerships on CBDCs, including participation in the Digital Dollar Project.
He noted that several pilot programs were being designed to make CBDCs public. These pilots are expected to be revealed in the upcoming weeks.
Coinbase submits proposal that could earn MakerDAO $24M annually
Coinbase submitted a new proposal to MakerDAO (MKR), suggesting to transfer 33% of its $1.6 billion Peg Stability Module (PSM) into a Coinbase Prime custody account to make a 1.5% yield annually.
This could allow MakerDAO to generate a passive income of up to $24 million a year. Some MakerDAO members opposed the proposal by saying it could affect decentralization and add another layer of regulatory attack.
Crypto industry is 'maturing' but expect slowed growth in the second half – KPMG
A recent report by KPMG concluded that Bitcoin's performance and risks correlate with traditional assets. Global investments into crypto were recorded as $32.1 billion and $14.2 billion in the first half of 2021 and 2022, respectively.
The report concluded that the growth of the crypto market could slow down in the second half of the year.
Law firms request removal of Roche Freedman in Tether case over allegations made in viral video
After a scandalous video of Kyle Roche was posted online, law firms Kirby Mclnerney LLP ("Kirby") and Radice Law Firm P.C. ("Radice") filed a motion for the removal of Roche Freedman as co-counsel in the litigation against Tether.
The law firms argued that Freedman's involvement in the case would affect the plaintiffs' rights owing to the team's failing leadership.
Singapore's largest bank, DBS, to offer crypto services to 300,000 investors
DBS Bank's CEO confirmed that the bank would soon start to offer cryptocurrency services to over 300,000 accredited investors in the region.
Singapore's largest bank revealed that it would pick the most wealthy 300,000 individuals in Asia to offer cryptocurrency services without disclosing a detailed description of these services.
Bankrupt crypto lender Voyager set to auction off its assets on Sept. 13
Voyager said it received bids from 22 parties interested in buying its assets. The crypto lender scheduled an auction for Sept 13 to liquidate all its assets.
Voyagers, we want to let you know that multiple bids were submitted as part of the company's restructuring process. As a result, an auction is scheduled for September 13th. (1/3)

— Voyager (@investvoyager) September 7, 2022
While little is known about the mysterious 22 bidders, FTX and Binance have stated that they are interested in purchasing Voyager.
Aave votes to halt ETH borrowing in response to user concerns about maximizing ETHPoW airdrops.
The Aave community approved a new governance proposal that put Ethereum (ETH) borrowing on hold. The proposal was approved by 77.8% of the community. It also stated that ETH borrowing was halted prior to The Merge to avoid "high utilization in the ETH market."
Algorand mainnet performance will be increased by 5 times following the new upgrade.
Network proof of stake Algorand's mainnet network was recently upgraded to increase transaction capacity to 6,000 transactions per second (tps). The previous version could issue 1,200 tps, indicating a 5x increase in capacity.
State Proofs were also added to the network, allowing for trustless cross-chain communication by securely connecting multiple blockchains without the need for a third party.
According to the acting OCC chairman, US banks must maintain a cautious approach to cryptocurrency.
Acting Comptroller Michael Hsu of the OCC maintains a critical view of the crypto space, warning banks at a recent conference to maintain a "careful and cautious" approach to the industry in order to avoid contagion that would harm the US economy.
Research Highlight
Quantitative Tightening has potential to be the most disruptive ever
Quantitative Tightening (Q.T.) is a tool used by the Federal Reserve to combat inflation. Q.T. reduces the Reserve's balance sheet by transferring a significant amount to securities and investors.
CoincryptoUS's macro analysis on the topic indicates that the upcoming Q.T. period could be the most turbulent one yet.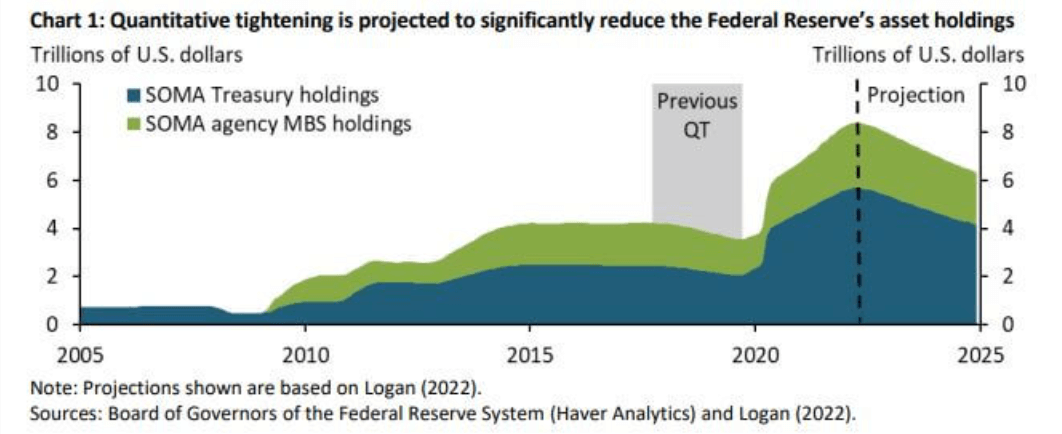 Q.T. has been the U.S. policy to deal with inflation since 2017. According to the macro data, this Q.T. will try to reduce $9 trillion from the Fed's balance sheet, which will be the most significant amount so far.
News from around the Cryptoverse
The Reserve Bank of India starts working on a CBDC project
According to MoneyControl, The Reserve Bank of India (RBI) is in talks with four public banks to launch a CBDC project. RBI aims to establish a CBDC project by the year-end.
SEBA Bank launches Ethereum staking
Crypto-oriented SEBA Bank launched Ethereum staking feature to encourage institutional access to the staking economy, MoneyCab reported, The bank hopes to increase its customers' involvement with crypto as Ethereum changes to PoS.
Brave integrates over 2 million unstoppable domains
Crypto-adaptive browser Brave announced that it incorporated more than 2 million new Unstoppable domains to display decentralized websites. These integrations will allow creators to build decentralized content with a domain they own and control.
Related video :