The distribution of Litecoin's supply reflects the amount of uncertainty among its investors.
Whales with 100,000 to one million LTC coins raised their holdings in the previous two days. In contrast, addresses holding 10,000 to 100,000 LTC coins had outflows throughout the same time period.
These two whale groups presently hold 35.17% and 18.14% of the Litecoin supply, respectively.

Outflow margins were lower for whales with more than one million coins. Nonetheless, they may have contributed to the week's decline.
The lack of a coordinated strategy among the whales creates some ambiguity about price direction. The current macroeconomic situation also contributes to the lack of certainty among investors. Meanwhile, the inactive circulation of Litecoin paints a different narrative.
Where is the smart money betting on Litecoin?
According to the 90-day dormant circulation, more investors choose to HODL their coins in the first week of September. As a consequence, dormant coins declined in the last seven days in the last 90 days.

LTC's dormancy shows that traders are positive on the chances of a bullish breakthrough. This corresponds to an increase in the number of daily active addresses during the previous 24 hours.
The price of Litecoin has risen in the previous 24 hours. As a result, the majority of address activity added to purchasing pressure.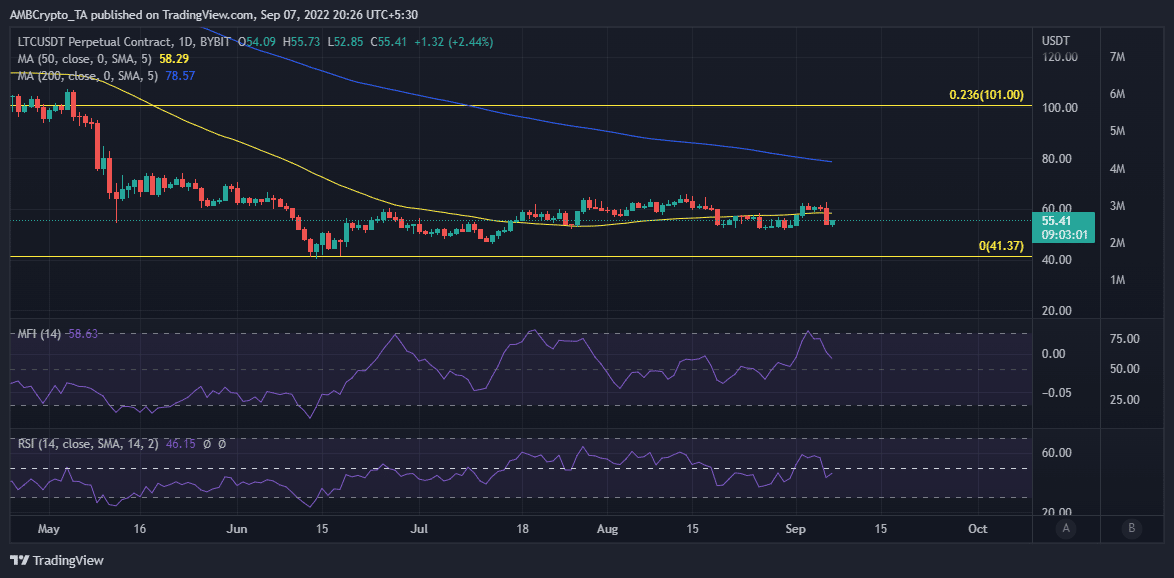 The ensuing small gain indicated that buying activity was modest. It might also have been cancelled out by the current sell push. Litecoin was trading close to the August support level, which it retested this week.
LTC's smart money may be positive, especially after gaining some ground slightly below the RSI.
The ongoing war between bulls and bears, however, is far from over. The broader market perspective highlights a decrease in selling pressure experienced since Monday (5 September). Although this reinforces the anticipation of a positive outcome, it does not ensure it.