During the past week, OpenSea, a prominent non-fungible token marketplace, made a strategic move to expand its market share by launching OpenSea Pro, a new platform specifically designed for professional NFT traders. This launch was aimed at Blur, OpenSea's top competitor in the NFT marketplace. Although OpenSea Pro has received positive feedback from the industry, it is still uncertain whether Blur's devoted customers will switch over to the new platform.
Ralph Lauren, the American fashion retailer, is set to accept cryptocurrency payments at their newly opened Miami store. Additionally, VitaDAO, a decentralized autonomous organization, has approved the launch of a for-profit company aimed at accelerating funding for research in longevity science.
This Week's Alpha
OpenSea Pro takes sail: OpenSea, the leading NFT marketplace, has faced stiff competition from newcomer Blur in the fast-paced trading segment of the market. Blur's fee-free structure and trading incentives have given it an edge over OpenSea, which has traditionally been popular among collectors and artists for its ease of use and widespread adoption. In response, OpenSea has launched its OpenSea Pro platform, aimed at attracting professional NFT traders and reclaiming its dominant position in the market. Both OpenSea and Blur have been engaged in a fierce battle, closely monitoring each other's strategies and adjusting their policies to maintain their competitive edge.
OpenSea Pro package: OpenSea Pro is a newly rebranded version of Gem, which was acquired by the company in April. This revamped platform boasts the ability to gather data from a whopping 170 different marketplaces, giving traders access to real-time information and tools for managing their inventory, optimizing gas fees, and more. Additionally, the site has generously rewarded early Gem adopters with a unique NFT called "Gemesis" as a token of appreciation for their early participation.
Blurred lines: While there is uncertainty about whether OpenSea Pro will surpass Blur, the positive feedback from Twitter users suggests potential success. A noteworthy advantage of OpenSea Pro is that it offers a platform for experienced NFT traders, while also continuing to serve casual traders on its main platform.
Crypto, but make it fashion: Ralph Lauren, an American fashion brand, has recently launched a new store in Miami that accepts cryptocurrency as a mode of payment, making it the company's first outlet to do so. The store has partnered with BitPay, a payment service provider, to enable customers to purchase goods using three popular cryptocurrencies, namely bitcoin (BTC), ether (ETH), and Polygon's token, MATIC. While Ralph Lauren has been experimenting with Web3 technology for several months, the integration of crypto payments marks a significant milestone for the brand and may serve as an entry point for mainstream customers who are exploring blockchain-based transactions.
Adding NTFs into the mix: Furthermore, the brand is collaborating with the Web3 community Poolsuite to launch co-branded NFTs, which will be given as a gift to current owners of the Poolsuite NFT membership collection. Members will be granted exclusive entry to a "special event" and can enhance their "Leisurist" avatars with digital Ralph Lauren wearables.
Viva VitaDao: VitaDAO, a decentralized autonomous organization (DAO) focused on longevity sciences and backed by Pfizer, has recently approved the formation of a for-profit enterprise, called VitaTech, to support its research efforts. The new company intends to obtain licenses for longevity technologies from research institutions and universities in the United States, with the goal of furthering their development and closing the gap between research and commercialization. The project's implementation phase is expected to take 10 weeks.
The longevity-crypto connection: VitaDAO has informed CoinDesk that there is a significant level of interest among cryptocurrency enthusiasts, with Vitalik Buterin being one of the prominent individuals, to financially support research in the field of longevity. In January, the project successfully concluded a funding round, raising an impressive $4.1 million in capital.
Democratizing healthcare research: As per the approved proposal on Thursday, it was stated that "There are numerous exciting longevity-related research projects being undertaken in U.S. universities and national labs, but most of these projects never reach the commercialization or investable stage." The objective of this initiative is to democratize and accelerate the funding process, which could potentially revolutionize the approach towards medical funding in the United States.
Projects on the Rise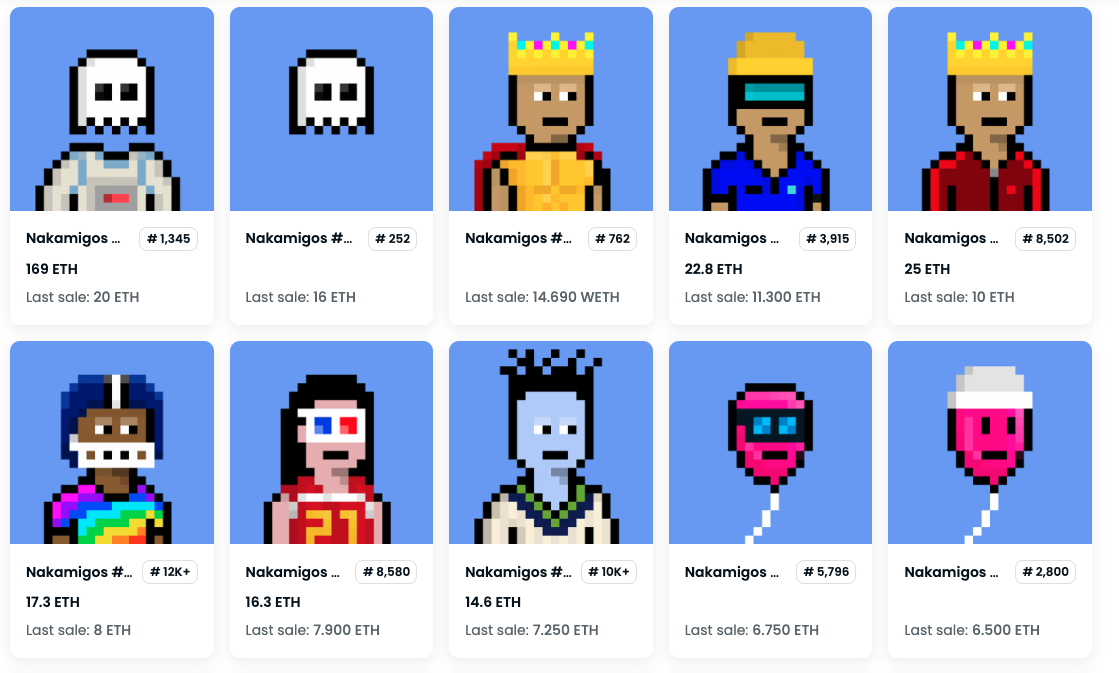 Nakamigos
Who: Crafted by a collaborative and anonymous team of HiFo Labs, this creation stands as a testament to their ingenuity and dedication.
What: The Nakamigos project, a collection of 20,000 NFTs featuring pixelated avatars, seemingly appeared out of nowhere and quickly gained widespread attention within the NFT community on Twitter. The project was launched just last month and draws its name from the pseudonym of Bitcoin's creator, Satoshi Nakamoto, with the addition of the Spanish word for friend, "amigo", to create Nakamigos. Despite not presenting any clear roadmap or long-term plan for holders, the project reportedly surpassed the Bored Ape Yacht Club in terms of lifetime trades within days of its release, and has since amassed a following of over 24,000 users on Twitter.
How: The unexpected success of the Nakamigos project has left analysts and traders scratching their heads, although some speculate that it can be attributed to clever marketing tactics and a strategic partnership with NFT influencer Sartoshi, the creator of the popular "mfers" NFT collection. As part of the partnership, holders of the end of Sartoshi (eos) NFT collection were given the opportunity to claim free Nakamigos during the minting process. Additionally, the project heavily promoted a publicity stunt in which it gifted 24 NFTs, created in the likeness of major crypto influencers such as Art Blocks creator Erick Calderon, NFT trader DJ Seedphrase, and artist XCOPY.
It should be emphasized that the origins and objectives of the Nakamigos project remain obscure, and a significant portion of its trading volume is likely due to enthusiastic holders looking to profit from a popular trend. Nevertheless, the question remains: will it endure? To gain a better understanding of Nakamigos, the influence of meme culture, and their overall impact on the NFT market, we conducted an in-depth analysis which you can read here.
In Other News
Bugatti x Bitcoin: Luxury car manufacturer Bugatti has teamed up with high-end jewelry maker Asprey to produce a collection of 111 NFT eggs on the Ordinals protocol, which is based on Bitcoin. The minting of these NFTs is scheduled for May 4, and they will be priced between $20,000 to $50,000.
Web3 gaming growth: Web3 gaming has exhibited promising signs in the first quarter of 2023, as indicated by the most recent on-chain data analysis provided in a DappRadar report. The report revealed that investments in blockchain games and metaverse projects amounted to $434 million in March alone and $739 million for the entire quarter.
Non-Fungible Toolkit
What is Decentralized File Storage?
Following our discussion last week on the definition of decentralized identity, we would like to delve into Web3's response to cloud-storage behemoths like Amazon, Google, and Dropbox. Decentralized file storage networks such as Filecoin, Storj, and Arweave offer an alternative solution to entrusting all of your files to a centralized corporation.
Decentralized file storage protocols offer an innovative approach to data storage that differs from the traditional method of relying on a single cloud company. Instead, these protocols divide data into small pieces and distribute them across pseudonymous computers, or nodes, that are connected to a decentralized network. This decentralized approach provides greater security and protection for files, as they are distributed across a network consisting of numerous stakeholders, rather than being held by a single company.
Source Coindesk