CoinDesk data shows that on Friday afternoon, Ether (ETH) reached a low of $1,833, which is its lowest price since April 9th.
Following the successful implementation of the much-anticipated Shanghai upgrade last week, the second-largest cryptocurrency by market capitalization has now wiped out all of the price gains from its recent rally.
After reaching a high of $2,118 on Tuesday, ETH has dropped by over 13%. In the past 24 hours alone, it has fallen by 5.3%. This decline is attributed to uncertainties in the wider digital asset market, including those related to macroeconomics and the crypto industry. Investors are carefully weighing these factors.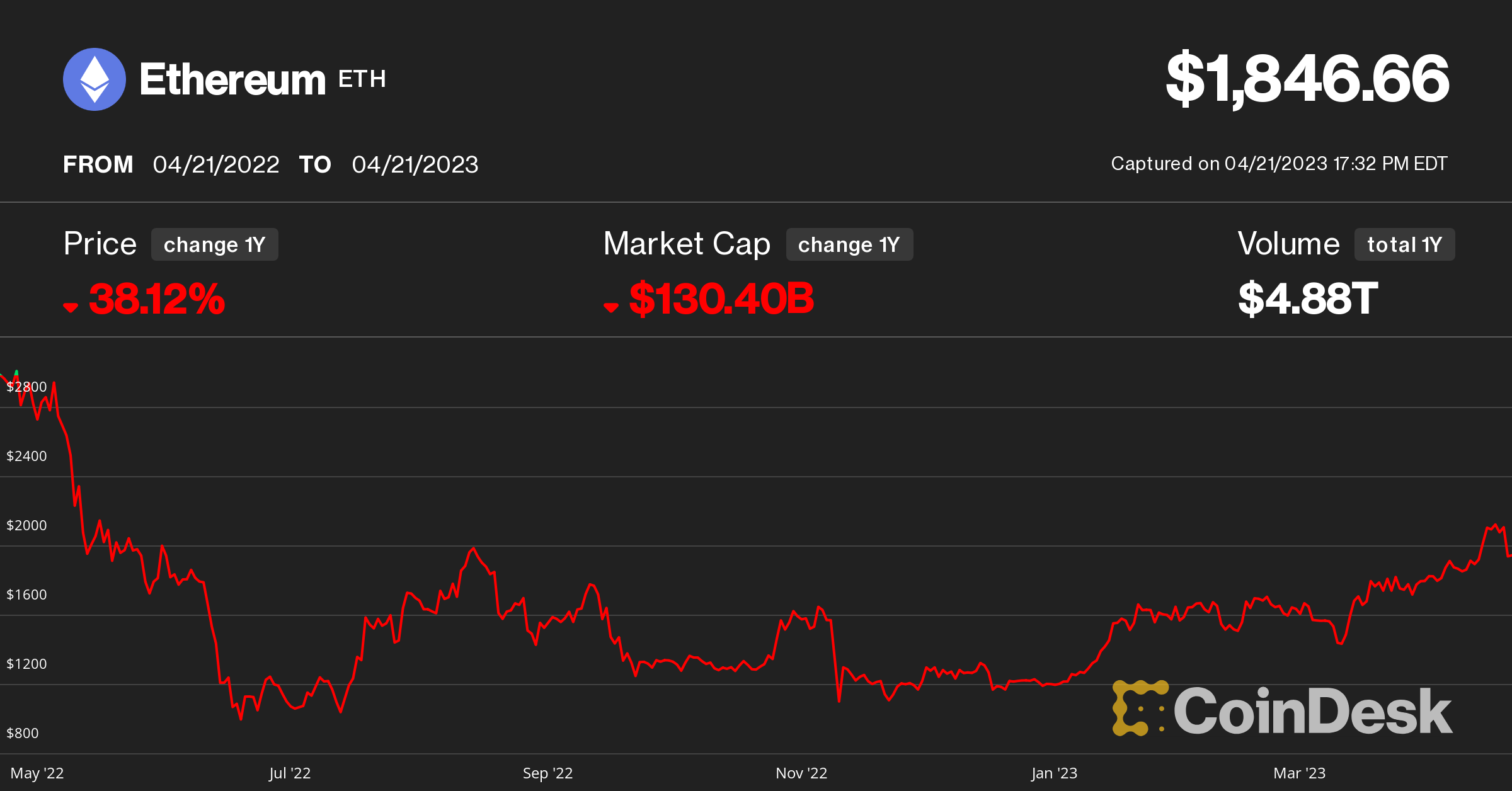 The Ethereum blockchain's transformation from a proof-of-work to a more energy-efficient proof-of-stake protocol was completed with the April 12 hard fork. This allowed for withdrawals of approximately $35 billion worth of tokens locked in staking contracts. The price of ETH started to rise the day after the event and reached its highest level in 11 months, after having remained below $2,000 for most of the past year.
ETH has been experiencing a steady decline since Tuesday, which is occurring amidst a larger price slump. Bitcoin, for example, has dropped more than 3% over the past 24 hours and recently traded at around $27,200. It has also fallen by over 10% since reaching a high above $30,000 on Tuesday.
On Thursday's episode of CoinDesk TV, Edward Moya, senior market analyst at foreign exchange market maker Oanda, noted that the crypto markets have been displaying weakness in recent days. Moya attributed this to concerns surrounding persistent inflation, earnings in the stock market, and the possibility of an impending recession, all of which have contributed to the decline in prices.
Source Coindesk