BTC surged past $28,000 as investors reacted to the slightly positive first-quarter earnings of tech giants Alphabet and Microsoft, along with the closure of several short positions in the bitcoin market. This bullish sentiment appeared to be driving the cryptocurrency's upward momentum.
With a market capitalization surpassing all others, the leading cryptocurrency was trading above $28,250, registering a 2.8% increase in the last 24 hours. BTC had remained relatively stable throughout Tuesday, but experienced a sudden surge after the U.S. equities markets had closed for the day.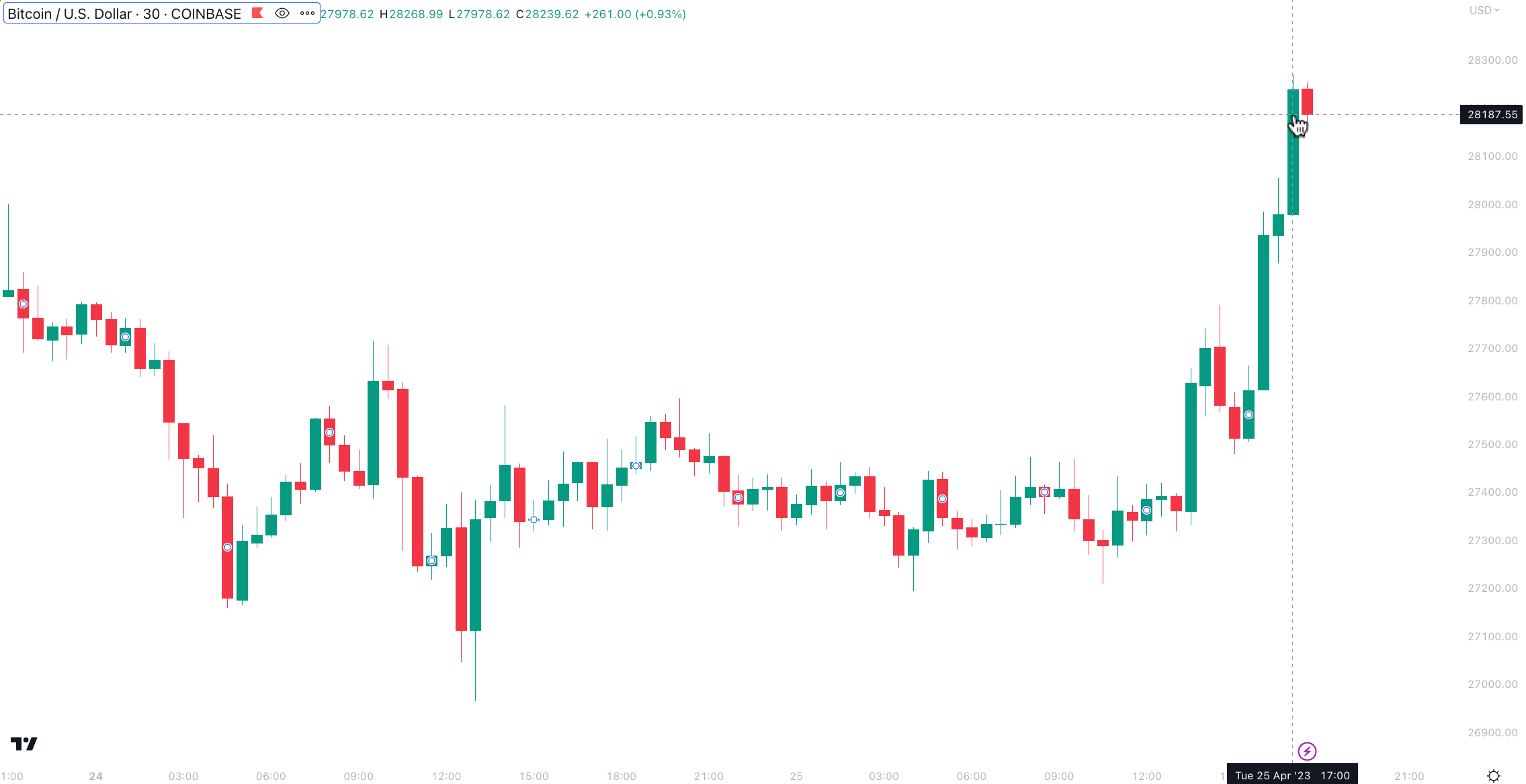 Bitcoin's sudden surge happened towards the end of the trading day as Alphabet and Microsoft exceeded market expectations, and analytics firm Coinglass reported the liquidation of approximately $11.3 million worth of BTC short positions since 4 p.m. ET. In the past, short squeezes such as these have been known to expedite price surges, which could explain the cryptocurrency's rapid rise in value.
Ether (ETH), the second-largest cryptocurrency by market value, mirrored Bitcoin's pattern and experienced a modest increase of 1.8%, bringing its trading price to approximately $1,869. The digital asset had earlier dipped to a low of $1,804 during trading hours on Tuesday, according to CoinCryptoUs's data. Despite the brief setback, ETH has been enjoying a steady upward trend in recent weeks, bolstered by an increasing number of institutional investors and decentralized finance (DeFi) applications built on its blockchain platform.
The major equity indexes closed lower on Tuesday, following news that First Republic Bank (FRC) had reported a loss of $100 billion in deposits in its quarterly results. This development renewed concerns about the stability of regional banks, particularly in light of the recent collapses of Silicon Valley and Signature banks. FRC's shares plunged almost 50% on Tuesday, intensifying investor anxiety about the overall health of the banking sector.
The S&P 500 and the technology-focused Nasdaq Composite both experienced a 1.5% and 1.9% drop, respectively, in their closing values, whereas the Dow Jones Industrial Average (DJIA) registered a 1% decline by the end of the day.
The bond market saw a decline in yields, with the two-year Treasury note experiencing a 19 basis point drop to 3.94%, and the 10-year Treasury yield falling by around 11 basis points to 3.40%.
"This deep into earnings season, it seems the outlook isn't too bad and that should mean the [Federal Reserve] can stay on their tightening course with the risks of a June hike still remaining on the table," Edward Moya, senior market analyst at foreign exchange market maker Oanda, wrote in a Tuesday note.
"After this round of earnings and the latest consumer confidence report, the one thing that everyone can agree upon is that personal consumption is going to be a lot weaker going forward," Moya added.
Stefan Rust, the CEO of Truflation, a data aggregator, expressed optimism in an email to CoinDesk, stating that the present macroeconomic uncertainties, which include ongoing discussions on monetary policy, have once again highlighted the potential of cryptocurrencies.
"This is the time for crypto to shine against all this adversity, regulations, compliance/obedience while the fiat world is struggling with debt, bank concentration and this shift to a multipolarized world with so much mistrust against institutions and lack of guidance and leadership from politicians," Rust wrote.
He added: "If not now, crypto will just become another technology providing rails for the existing systems they want to subject to compliance so that incumbents can maintain and manage incremental transitions, versus leapfrog into a new modern age of financial innovation without middlemen."
Source Coindesk