The stablecoin market is poised to contract for the 14th consecutive month, indicating a gradual outflow of capital from the digital asset arena. This worrisome trend poses a challenge to the resurgence of cryptocurrency prices.
In a recent market report from CCData, it was revealed that the total market capitalization of stablecoins has dwindled to $130 billion in May, marking its lowest level since September 2021. This alarming trend of decline has persisted since March 2022, indicating a sustained contraction in the stablecoin market.
Stablecoins, a particular category of cryptocurrencies, maintain a fixed value relative to an external asset, typically the U.S. dollar. They serve as essential infrastructure within the digital asset ecosystem, fulfilling a crucial role in enabling seamless cryptocurrency trading and establishing connections between government-issued fiat currencies and blockchain-powered markets.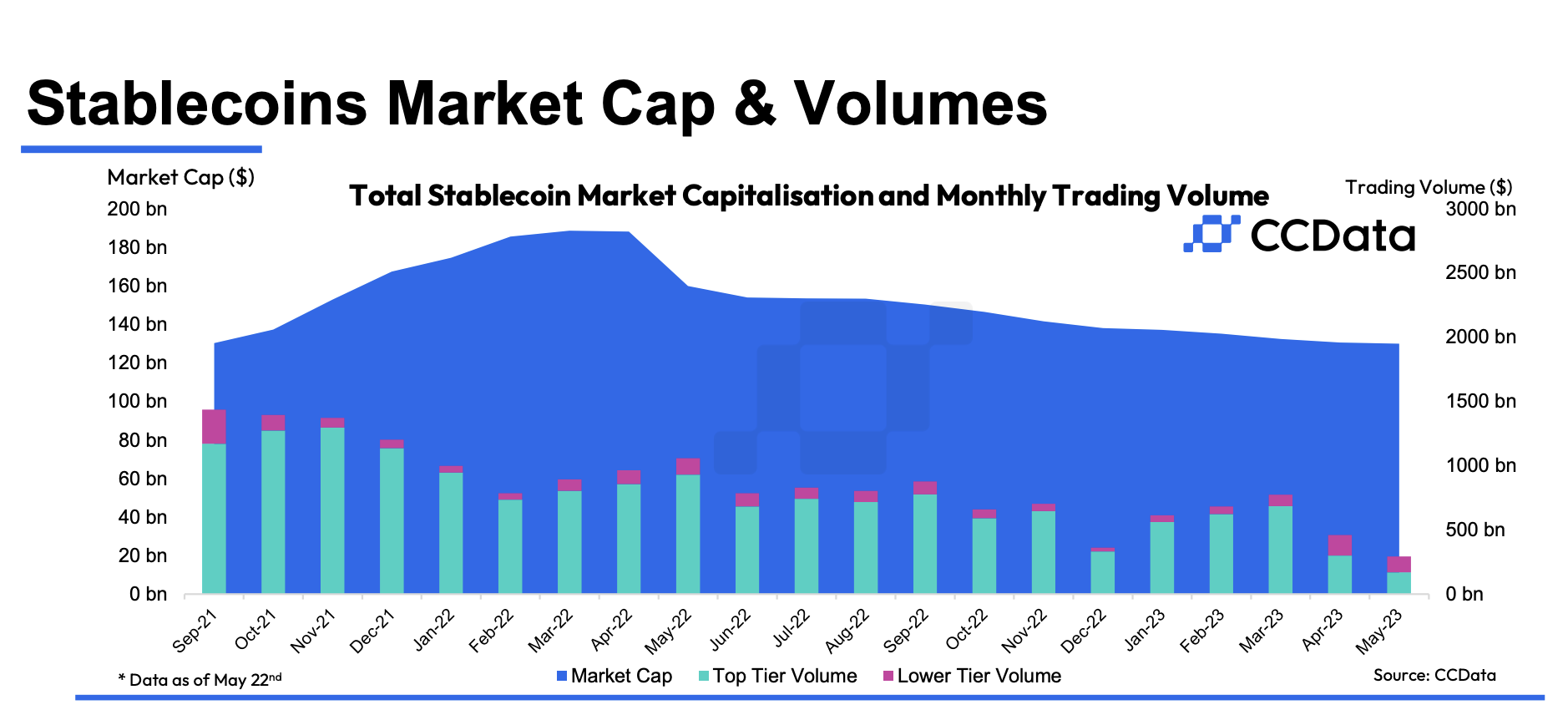 Experts contend that the shrinking stablecoin market presents obstacles for cryptocurrency prices, indicating a decline in overall liquidity.
"Stablecoins are the liquidity of the crypto ecosystem. The more liquidity, the more ability for investment and speculation," Tom Dunleavy, macro analyst said in a note to CoinDesk. "The continued reduction, despite the growing number of applications, says to me we are still not out of the woods for this secular bear market."
In a recent report, JPMorgan, a prominent banking powerhouse, stated that the resurgence of cryptocurrency prices is improbable until the stablecoin market ceases its contraction. This viewpoint aligns with an earlier report by Goldman Sachs, a renowned global investment bank, which likened the shrinking stablecoin market to a form of quantitative tightening within the crypto industry. Such a trend signifies diminishing liquidity and leverage in the market.
The latest report from CCData reveals a substantial drop in trading activity involving stablecoins on centralized exchanges. The volume has sharply declined by 40.6% this month, reaching a total of $460 billion. This marks the lowest monthly trading volume recorded since December 2022.
"The drop in trading volume comes with major crypto assets staying range-bound and failing to break key support and resistance levels," the report said.
TrueUSD (TUSD), the stablecoin, has demonstrated resilience amidst the overall market decline, with its trading volume surging to $29 billion this month, according to CCData. TUSD has surpassed two struggling competitors, USDC and BUSD, becoming the second most traded stablecoin on centralized exchanges for the first time.
The resurgence of TUSD can be attributed to Binance, the leading cryptocurrency exchange globally in terms of trading volume, which has been actively promoting the token's utilization on its platform. Binance has incentivized the use of TUSD by waiving trading fees for buying and selling Bitcoin (BTC) with the stablecoin.