On Monday night, The Bowie Estate's exclusive collection of non-fungible tokens (NFT) with OpenSea sold for 96.5 ETH, or almost $127,000.

In order to honor the British pop icon and the vibrant themes he employed throughout his career, the David Bowie estate collaborated with leading NFT marketplace OpenSea to sell "Bowie on the Blockchain," a 15-piece NFT collection. The collection, which debuted on the market on September 30, includes works by nine different NFT artists.

The 19-year-old NFT artist FEWOCiOUS's collection highlight combines an animated film clip with a seven-foot-tall sculpture that is dressed in one of Bowie's custom suits from his archive.

"I felt it was awesome that he constantly achieved his goals. and built the world he desired to live in. That's exactly the sentiment I strive to convey in my work, according to FEWOCiOUS, who wrote about the collection.

The collection, according to OpenSea, will continue Bowie's legacy of changing the way music is performed, enabling digital communities, and championing new technologies over the course of his career.

Previous sales of other NFTs from the collection ranged from 3 ETH ($4,000) to 7.5 ETH ($9,800).

The NFT by NFT artist Defaced called "It Became A Myth Land" sold for the second-highest price. The one-of-a-kind digital piece progresses through six different periods of Bowie's life and career over the course of a 12-hour clock. It comes with an Atomic Form digital frame to exhibit the artwork when purchased.

The final NFTs in the collection will be sold on November 3 after some NFTs went up for bid on September 30. 100% of the proceeds from all collection sales will be sent to CARE, a group that works to eradicate hunger and poverty across the world. Iman Bowie, a supporter of CARE on a global scale.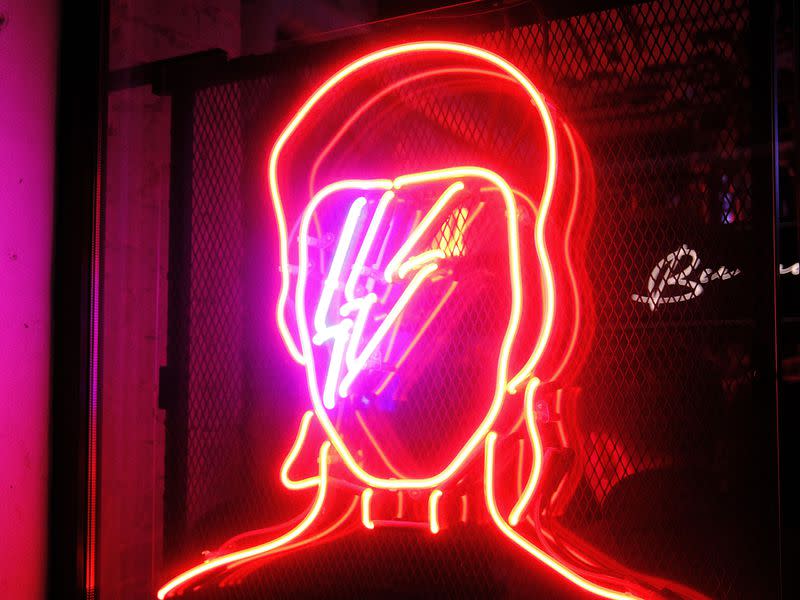 Estates for celebrities on the blockchain

The Bowie Estate's foray into digital collectibles is part of a developing pattern in which the posthumous legacies of famous people are carried on via NFTs.

With the sole right to license his unreleased tune "Fulton Street Freestyle," Biggie Smalls' estate collaborated with music NFT marketplace OneOf to produce "Sky's the Limit" in July. It is a 3,000-piece collection of generative art profile photos (PFPs).

Biggie's estate manager, Wayne Barrow, told CoinDesk that NFTs are a way for him to thank his supporters over the years.

"We know Biggie would be proud of having his work shared with the people who cared about it the most in this unique way," said Barrow. "We're giving them the opportunity to select how Biggie's freestyle is used."

Other celebrity estates have received assistance from OneOf as they enter the web3 market. They collaborated with Whitney Houston's estate last December to sell an unheard song as an NFT for $1 million.

In an email, Pat Houston, Houston's executor, stated, "I'm thrilled to see Whitney's legacy and her amazing music transcend into the brave new technologies of our era." "Watching the creativity of Whitney's songs affect a new generation was a thrill," one person said.

The late photographer Chi Modu and another NFT platform, LTD.Inc, collaborated to create a collection of real and digital prints of artists like Mary J. Blige, Method Man, and Nas. Every physical print has a chip that may be scanned to gain access to benefits online.

As part of a broader "Elvis-On-Chain" NFT release, Elvis Presley Enterprises, the corporation established by the performer's estate, also airdropped NFT wigs and jumpsuits during a Decentraland metaverse event in January.