Disclaimer: The datasets shared in the following article have been compiled from a set of online resources and do not reflect CCU's own research on the subject.
Shawn Tabrizi, lead developer at Polkadot network, talked about the possibility of "a cohesive, multi-blockchain future" during an interview with in February 2022. Back then, he also stressed on the need for preserving the fundamentals of data privacy in the Polkadot ecosystem.
The Polkadot infrastructure supports two kinds of blockchains, relay chain and parachains.
The central blockchain of the Polkadot infrastructure is the Relay Chain where validators provide consensus for a transaction. The Relay Chain is built in a way so as to coordinate the management and operation of the whole Polkadot infrastructure, with minimal functionality in regard to other applications.
A parachain, on the other hand, is an application-specific chain on the Polkadot infrastructure that is validated by the validators of the Relay Chain itself. Since these chains run parallel to the Relay Chain, they are called parachains. It is here that developers can develop both applications and their own blockchains. All of these parachains can communicate with each other on the network. In short, this cross-chain technology facilitates the transfer of both assets and data across blockchains. Users therefore don't have to depend on a particular system for all of their cryptocurrency transactions.
Polkadot parachains can easily communicate with other blockchains existing on Ethereum and Bitcoin networks. The blockchain also provides better control, flexibility and security, reducing the risk to its miners due to unauthorized validators. Acala, Moonbeam, Clover, Astar and Parallel are some of the oldest projects running on the Polkadot network. The blockchain is growing rapidly and seems to promise a reliable future to its users.
Wood believes that from a Web 3.0 perspective, the inter-chain blockchain protocol of a network like Polkadot will connect different technological threads into a single economy and movement.
The ability to communicate without the need to trust each other is the cornerstone of the Polkadot system. The parachain auctions of Polkadot can truly build a democratic internet space as decentralized or distributed network architectures form the infrastructure of the online world.
In May this year, a Polkadot upgrade enabled parachain-to-parachain messaging over XCM. The XCM format is aimed at helping the Polkadot network become a fully interoperable multichain ecosystem. XCM allows communication not only between the parachains themselves, but also between smart contracts and decentralized applications.
As a blockchain running on the PoS consensus mechanism, Polkadot is one of the most eco-friendly blockchain cryptocurrencies.
The PoS method is more sustainable than the PoW method as there is no race to mint more coins.
As per a new study by the Traders of Crypto, Polkadot, along with Cardano and Algorand, are among the most environment-friendly cryptocurrencies. Polkadot is the fourth most eco-friendly currency in terms of its CO2 emissions (50 tonnes annually).
A Forbes report quoted Bilal Hammoud, CEO and founder of National Digital Asset Exchange, "Polkadot's mission is to securely allow Bitcoin and Ethereum to interact with each other in a scalable manner… Imagine if you store your wealth in Bitcoin and use that Bitcoin on an Ethereum dApp [decentralized application] to take a loan for a house quickly and securely."
The interoperability and scalability of the Polkadot infrastructure have helped it endear itself to a lot of enthusiastic developers, thereby significantly raising the value of DOT.
Launched in May 2020, DOT's price soon hit $6.30 in August 2020. Broadly loitering around the price levels of $4 and $5 in 2020, its tides quickly turned the next year. With 2021 being very bullish for DOT on the charts, the altcoin's price hit an ATH of $55 in early November.
However, DOT wasn't alone in suffering significant losses in Q2 of 2022, with the altcoin's value depreciating significantly on the charts. In mid-July, it was valued at just a little above $6.
It is only now that DOT is recovering on the charts. Albeit, not by much.
In fact, at press time, DOT was priced at just over $7.69, with DOT still among the market's top-10 cryptos. Its latest attempt at a hike, in fact, allowed it to overhaul DOGE on the rankings, at least briefly.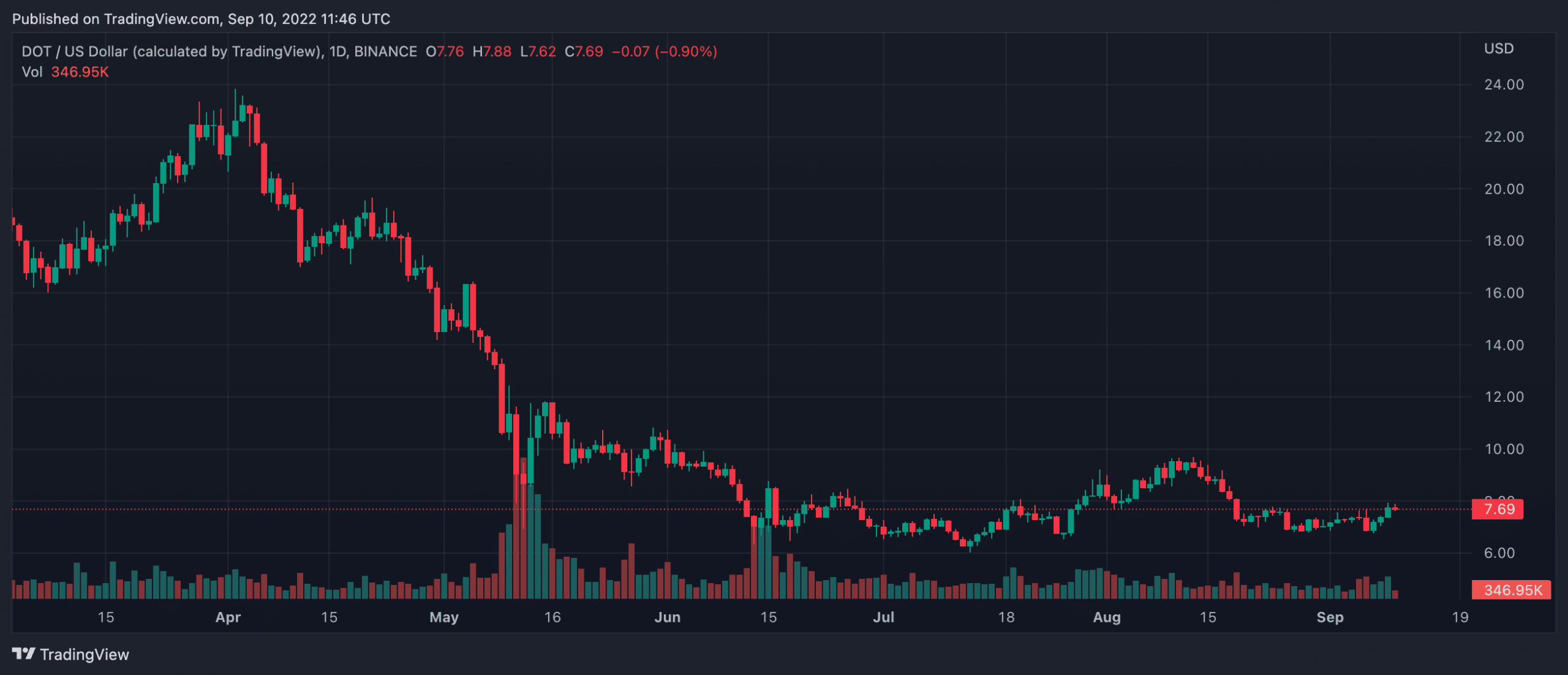 Why are these projections important?
Polkadot stands out among the market's main cryptocurrencies in that it allows users to operate and trade across blockchains. DOT is likely to remain one of the market's most popular cryptos, with a circulating quantity of over 1 billion coins.
This also makes DOT one of the market's most closely watched cryptocurrencies. As a result, it is vital that investors and holders be informed about what popular experts have to say regarding the future of DOT.
In this post, we will provide a quick overview of DOT's important performance parameters, such as price and market cap. Following that, we will look at what the most prominent crypto-market experts have to say about the current and future conditions of DOT, as well as its Fear & Greed Index. In addition to these findings, we will give metric charts.
Polkadot's value, market capitalization, and everything in between
Polkadot fared admirably throughout the 2021 crypto-bloom, reaching $20 in early February and $30 in mid-February. It broke beyond the $40 barrier in early April and fluctuated for the following few months. After a tough stretch, it reached an all-time high of $55 in early November.
The last month of 2021 was a trying moment for the whole cryptocurrency industry. Polkadot suffered the same fate, with DOT trading slightly above $26 on December 31.
Come 2022, and the Russia-Ukraine situation has further thrown the market into disarray. DOT was trading at roughly $18-20 in January and February. The Ukrainian government's decision in March to accept donations in DOT was considered to increase its prospects. It didn't make much of a difference, though, because it didn't break the $23 barrier until early April.
The collapse of both LUNA and TerraUSD in May 2022 sent shockwaves through the entire cryptocurrency sector. In fact, on May 12, DOT's price dropped to $7.32. June and July were similarly disastrous months for the whole cryptocurrency market, with DOT falling as low as $6.09 on July 13th. However, the news that Japanese crypto-exchange Bitbank had listed Polkadot on its platform in early August provided some relief.
Polkadot has also been performing well in other areas. Look no farther than Messari's most recent research on regenerative finance movements. Polkadot claims that
Pink is the new green🟢

21 parachains [blockchains], 250+ dapps, 2500 nodes including 297 active validator nodes, and Polkadot remains the greenest blockchain. https://t.co/3V4FkMoIoC

— Polkadot (@Polkadot) August 12, 2022
Similarly, developer activity has been positive for Polkadot too. In may and June, for instance, it had the highest dev count. Over the course of 2022, the same for Polkadot has been second only to Solana.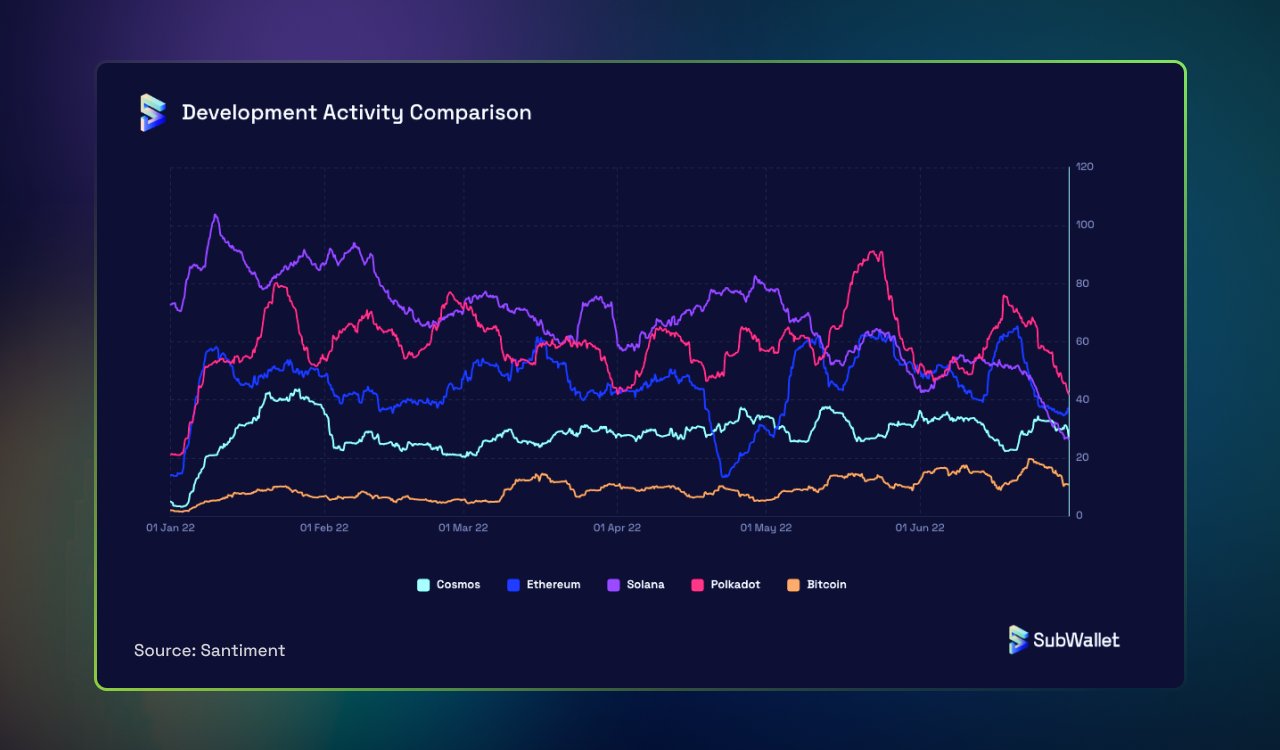 Polkadot's market capitalisation, understandably, reflected market sentiment. 2021 continued to be a prosperous year for cryptocurrency, with its market valuation reaching roughly $45 billion in mid-May. The Polkadot ecology, however, was damaged by the chaos of the second quarter of 2022. Nonetheless, Polkadot had a market worth of more than $8 billion at the time of publication.
Polkadot's 2025 forecast
We must first recognize that projections made by different experts and platforms might vary greatly, and predictions are frequently proven incorrect. Different experts base their judgments on different sets of measures, and none of them can forecast unforeseeable political-economic factors affecting the market. Now that we've established this, let's have a look at how various experts forecast Polkadot's future in 2025.
LongForecast projects that DOT will start at $10.76 in 2025 and will drop to $9.38 by the end of March. In fact, the forecasting program predicted a 2025 high of more than $13.5 on the charts.
Changelly, on the other hand, has been a touch more positive in their estimates. Indeed, it was suggested that DOT might reach as high as $39.85 on the charts, with the cryptocurrency having a potential ROI of more than 370%.
Similarly, Capex in South Africa noted that if DOT receives more attention and produces market optimism, its price will climb in the long run. Experts expect that the price of DOT will reach $10 by the end of 2022. It is also anticipated that a new bull market would emerge, pushing the price of DOT to $15. It claimed that the average DOT price in 2025 will be $15.82.
According to a Crypto Carbon Ratings Institute analysis, Polkadot has the lowest overall power use and total carbon emissions per year among the six so-called proof-of-stake blockchains, according to a Bloomberg news item published earlier this year. In truth, it only consumes 6.6 times the typical American household's yearly power consumption.
Polkadot's energy efficiency is expected to catch users' attention, given the high-decibel talks around cryptocurrency energy usage.
Polkadot's 2030 forecast
According to the aforementioned Changelly weblog, Polkadot will be worth at least $210.45 in 2030, with a maximum probable price of $247.46. Its average price in 2030 will be $218.02, according to the company.
According to Telegaon, the price of DOT in 2030 might be as high as $140.15 or as low as $121.79.
According to fintech specialists, the price of DOT is expected to rise substantially in 2030. It is projected that it would easily reach $35.
It is worth noting here that forecasting a market 8 years in advance is challenging. As a result, before investing, investors should perform their own research and be mindful of limitations linked to popular estimates. Especially given, despite DOT's recent rises, the altcoin's technicals aren't entirely optimistic right now. Indeed, putting safety first may be the best option right now.
On the contrary, the Fear and Greed Index for Polkadot was almost flashing a 'Greed' signal.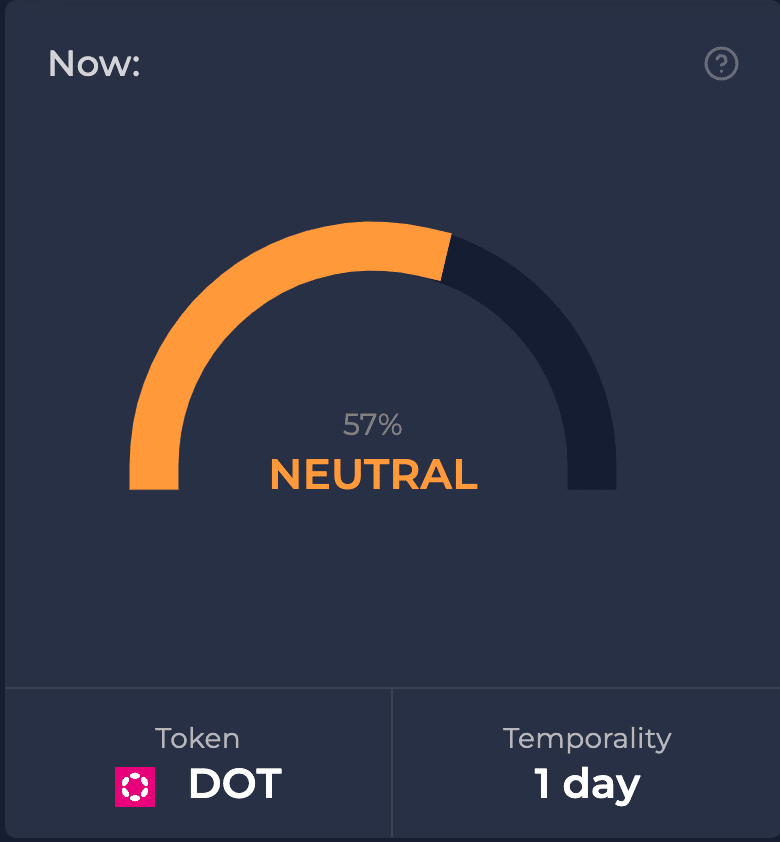 Conclusion
In comparison to other blockchains, Polkadot offers more power to its token holders, such as the roles of nominators, collators and fishermen, besides that of validators. In short, DOT holders can not only mine the currency, but be an active participant in the blockchain in other capacities as well. This feature puts Polkadot above other PoS blockchains in the race.
Over the years, Polkadot has attracted investments from a number of venture organizations such as Arrington ARP Capital, BlockAsset Ventures, Blockchain Capital and CoinFund. At one point of time, even the Three Arrows Capital had also invested a significant amount in the venture.
An ambitious venture, Polkadot intends to compete with Ethereum. Though its interoperability has the potential to attract a lot of projects, only a small number of them have come aboard the network. Notwithstanding the reputation of Ethereum, Polkadot is a relatively new venture and can perform better in upcoming years given it is able to attract larger projects. Its efficiency and scalability should come handy in this endeavour.
Polkadot limits the number of parachains it can support to around 100. Since the supply is limited, parachains are allocated through auction, governance system or parachains.
Only recently, the Kylin network became the winner of the 25th parachain auction on the Polkadot network, making a huge stride in the direction of Web 3.0 and DeFi development. Kylin won the offer with a bid of around 150,000 DOT.
The Web3 Foundation even today uses the proceeds from the sale of DOT tokens to support initiatives and projects being built on the Polkadot network. This foundation is governed by the Foundation Council, consisting of Dr. Gavin Wood, Founder-President, Vice President Dr. Aeron Buchanan and Reto Trinkler. The support provided to the network by such a reputed organization speaks volumes about the trust put in the future of the Polkadot blockchain network.
"If you are new to the [cryptocurrency] space, you have to invest your time reading and investigating the projects you are interested in," Hammoud advised. "Remember that the space is young, and there are many opportunities to learn and make the right investment decisions."
It must be reiterated, however, that predictions aren't set in stone and due caution should be taken by investors before investing in the market.