Square Enix, the Japanese company that makes the popular Final Fantasy games, has joined the blockchain gaming project Oasys as a node validator. Square Enix and Oasys will also work together to make blockchain games.

Some people in the gaming community who don't like cryptocurrencies and non-fungible tokens (NFTs) are upset that the company is still putting so much emphasis on blockchain technology.

In an announcement on September 12, Oasys said that Square Enix had joined the project as the 21st node validator, filling the last spot for initial validators.

In the future, the two will also work together to make new games for Oasys' Proof-of-Stake (PoS) blockchain, which is compatible with EVM and hopes to become a hub for Triple A games with Play-to-Earn (P2E) features.

Square Enix is joining other big names in gaming like Sega, Double Jump, Bandai Namco, and Ubisoft in partnering with Oasys. Ubisoft has a troubled past with gamers who have fought against the company's NFT gaming initiative Quartz.
In 2022, Square Enix has done irreparable damage to its image by

- Investing in crypto
- No longer prioritizing "fun" in gaming
- Selling off all their western studios

I'd call it self sabotage, but compared to what's happened to Warner Bros this year, it's honestly nothing https://t.co/TD8d1O1nj9

— Bruh Momento (@JBoop_is_ballin) September 12, 2022
The pitchforks are out
In the blockchain world, the idea of big names in gaming supporting a blockchain project is good news, but the traditional gaming community has not taken Square Enix's move well.

The news was written about in The Gamer with the headline "Square Enix Starts Its Feared NFT Plans by Teaming Up With a Crypto Company."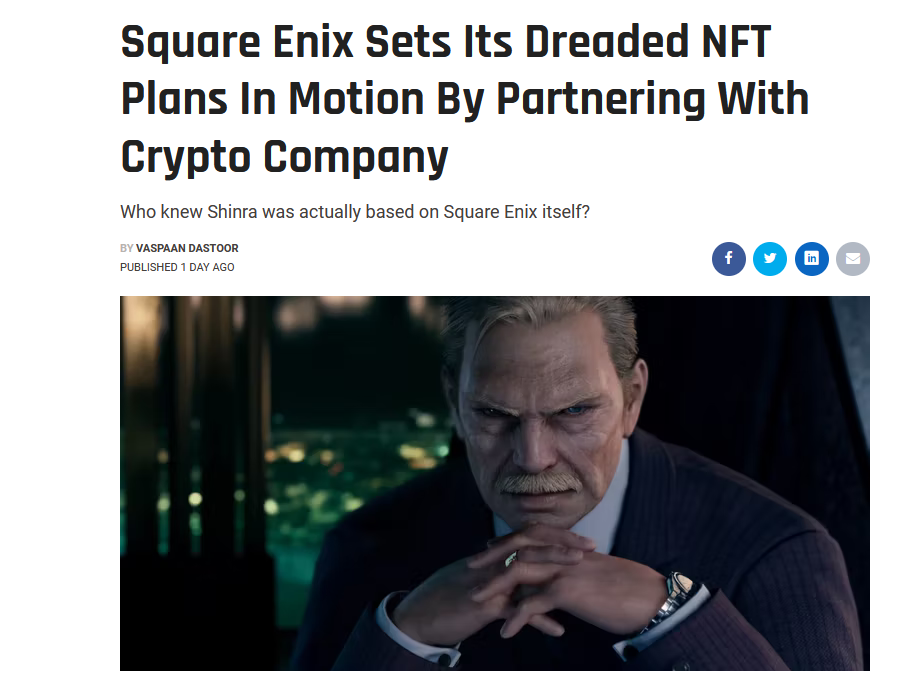 "Unlike most video game developers who decided to announce their ventures into the jpeg-filled world of NFTs, Square Enix has only been doubling down on it," the article notes, as it questions Square Enix president and CEO Yosuke Matsuda's previous statements about introducing P2E elements into games:
"He probably ignored the fact that so many NFT games aren't just scams, but also look like they were made by an actual bored ape."
On Twitter gamer @ShyVortex said the partnership was "truly disgusting. Never buying a Square Enix game again," while @eramaster12 questioned "what does it take to f#ckin force them to stop?."
@Pilnok also chimed in that this "has become tiresome and embarrassing" and @ManuelRomer2 added "what about just don't entirely?"
We are happy to announce that @SquareEnix joins Oasys as the final of 21 initial node validators🚀🚀

As part of this initiative, Square Enix and Oasys will explore development of New Blockchain Games🔥https://t.co/a2PGxf5uDz pic.twitter.com/QZ1rfRvSMC

— Oasys🏝Blockchain for Games (@oasys_games) September 12, 2022
Square Enix and blockchain
Despite pushback, Square Enix has been slowly stepping up its plans for blockchain in 2022.

Matsuda said in a New Year's Letter in January that he was very interested in the idea of putting "token economies" that use blockchain technology into games to give players and users who make content for the games a reason to do so.

"As token economies get better, users will be given clear incentives, which will not only make them more consistent in their motivation but also give their creative work a real benefit," he wrote.

Square Enix's games don't yet use blockchain, but the company got things started in July by selling tokenized figures of characters like Cloud Strife from Final Fantasy for $129.99.
============